Boarding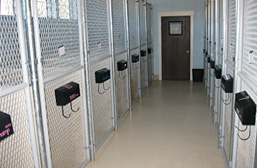 South Fork Animal Clinic offers boarding to your special friend seven days a week, every day of the year. Our newly remodeled facility is modern, spacious, odor free, and climate controlled. There are 3 separate areas within the facility to accommodate the hyperactive, the social, and the timid personalities. Your pet will enjoy being exercised twice daily and weather permitting may be able to enjoy our exercise yard.

Check-in/out
Your pet may be admitted and picked up at our boarding facility during the normal business hours of our clinic, which is Monday through Friday from 8 AM to 5 PM and Saturday from 8 AM until noon. We are happy to now offer Sunday evening discharge. Please inquire for details.

Boarding Rates
Please call South Fork Animal Clinic at (208) 745-7791 for current rates. Charges begin the day the pet is dropped off and each day thereafter. Pets picked up prior to 1:00 pm on the day of discharge will have the fee waived for the day.

Vaccinations
To ensure the safety of your dog or cat and other pets in our facility, South Fork Animal Clinic requires proof of vaccination by a veterinarian. Vaccines required are as follows:

Dogs: Parvo, distemper, parainfluenza, bordatella, and rabies.
Cats: Distemper, Calicivirus, Rhinotracheitis, leukemia, and rabies.

*Proof of vaccines include invoices, signed vaccine certificates, or faxed medical records. We will also accept phone confirmation from the veterinary clinic where the dog or cat was vaccinated. South Fork Animal Clinic is also available to vaccinate your pet.

Food
While your pet is with us, they will be fed Science Diet adult food. If your pet has special dietary needs, or you prefer to bring your own food, our staff will be happy to fulfill those requests. Please provide our staff with the diet and specific written instructions.

Holiday Reservations
We are closed on New Year's Day, Memorial Day, July 4th, Labor Day, Thanksgiving and Christmas. However, our boarding facility is fully operational and our kennel staff is on duty to care for our guests. Holidays fill up early so call ahead for reservations. A prepaid deposit of 50% of the total stay may be required on some holidays. Prepaid deposits may be refunded if cancellation is made two weeks or more prior to the reserved date.

We encourage you to tour our facility and welcome any comments or suggestions. The entire staff at South Fork Animal Clinic welcomes you and your pet to our facility. Stop by or call to schedule your pet's next vacation!


---